Mail scam has been around for a while and many people have suffered from loss of money or valuable items as a result of not being able to tell the difference between this spam mails and genuine mails. This doesn't mean that those who have been victims of scam emails are stupid or since you've not been a victim, you are too clever. To keep yourself safe, read this article to the end so you know how to Quickly Identify Fraud Mail and Online scams.
Sad to say that Online scamming isn't going away anytime soon, despite the effort by Google and other mail hosting services. This is because those perpetrating this online act are ready to go any depth to put food on the table and this Christmas season is a major target, in fact, it is more like saying this is their season.
scammers always come up with new ways and tactics on the daily basis, so therefore you need to always stay one step ahead to prevent being scammed.
Quick ways to Identify Fraud Mail and Online scams
One of the sure ways scammers use to perpetrate their acts is by impersonating companies. They will send you mail that looks like it is coming from a company you know or trust such as a bank, a social networking site, a top blogging site, etc. A simple way to detect this is by simply cross-checking the sender's email address, look out for errors like this: firstcontact@firstbanknigeria.com and firstcontact@gmail.com. These two emails are not the same.
Link clicking: Phishing emails and text messages will come with fake stories and tempting promises that will lure you into clicking on a link that will only lead to a dead end. We have studied many of these emails and they tend to have the following sentences
We've noticed some suspicious activity or log-in attempts, click here to secure your account
There's a problem with your account or your payment information
You must confirm some personal information
include a fake invoice
Although many persons will suspect mails like this but will ask themselves, what will I stand to lose just by clicking on a link and they'll go ahead to click on the link only to realize later on that it has lead them to a terrible end.
A wise decision to make when you receive mails like this is to ask yourself if you know the person who has sent this mail or if it is from a company, you try to recall if you've had any transaction in the past with the said company that now requires the information that is being asked. Also, you should cross-check the sender's email.
Here's a real world example of a phishing email.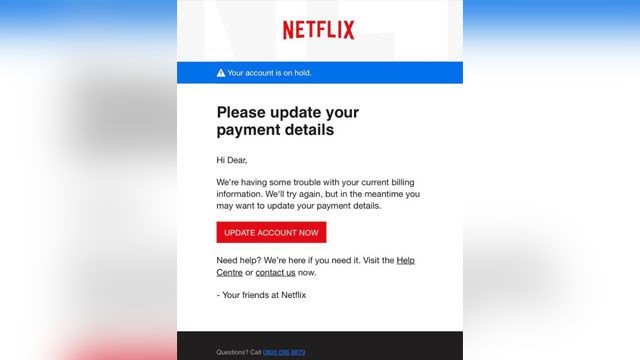 Suppose you have an account with Netflix and you receive mail like this that says NETFLIX, would you suspect it is scam mail? I guess not. So what happens when you click that tiny red button that reads "UPDATE ACCOUNT NOW"? it will open up a page that will request your credit card details and once you do… boom, you're now a victim of online scamming. Let's take a closer look at the mail again.
The email looks like it's from a company you may know and trust: Netflix. It even uses a Netflix logo and header.
The email says your account is on hold because of a billing problem.
The email has a generic greeting, "Hi Dear." If you have an account with the business, it probably wouldn't use a generic greeting like this.
The email invites you to click on a link to update your payment details.
While, at a glance, this email might look real, it's not. The scammers who send emails like this one do not have anything to do with the companies they pretend to be. Phishing emails can have real consequences for people who give scammers their information. And they can harm the reputation of the companies they're spoofing.
How to Protect Yourself From Phishing Attacks
Your email spam filters may keep many phishing emails out of your inbox. But scammers are always trying to outsmart spam filters, so it's a good idea to add extra layers of protection. Here are four steps you can take today to protect yourself from phishing attacks.
See Also:
How to Secure your Bank Account from being hack
Hackers hijack Facebook's Twitter and Instagram accounts
Here is how to Protect Yourself From Phishing
1. Use Anti-virus software. Security matters, having a secured computer is a good step to arm yourself against attackers that may want to attack your PC directly or via email. Also, make sure the software is set to auto-update because new threats are created on the daily basis.
2. Although mobile phones don't have trusted malware detector, you should set your apps to auto-update. These updates could give you critical protection against security threats.
3. Very Important! Protect your accounts by using multi-factor authentication. G-Mail, Facebook, Twitter, Instagram all offer 2FA authentication, take advantage of this, and protect your account against hacking. Research shows that accounts that use these features are extremely difficult to penetrate. The additional credentials you need to log in to your account fall into two categories:
Something you have — like a passcode you get via text message or an authentication app.
Something you are — like a scan of your fingerprint, your retina, or your face.
Multi-factor authentication makes it harder for scammers to log in to your accounts if they do get your username and password.
4. Protect your data by backing it up. Back up your data and make sure those backups aren't connected to your home network. You can copy your computer files to an external hard drive or cloud storage. Back up the data on your phone, too.